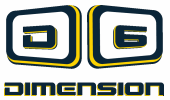 Today the website of the Dimension 6 LAN party went online, providing detailed facts. Taking place in Bremen, Germany, there will be 6,280 seats. So, given the corresponding number of attendees, it would be the biggest computer party in the world, even surpassing those in Scandinavia by about 1,000 participants.
The event will start on Thursday, December 14 and end on Sunday, December 17, 2006. This makes it four days, which is rather unusual in Germany. Also, Dimension 6 will replace the Winter edition of the NorthCon party. More information is available on the website.
As I am part of the innovaLAN team, I will definitely be there. See you!